Welcome to our new page exclusive to JGS members
Save the date
Our first National Conference since Covid will take place on
Saturday 13th April 2024
We are pleased to report that the planning of this important event is progressing well and that we have managed to secure a great venue at Japan House. We have some excellent speakers to attract you to attend our first 'in person' national event since the pandemic.
This conference will have a theme for 'Adapting to the future' and will also celebrate the 30th Anniversary of the JGS with all our achievements and how we can take the society into the future.


News from the SouthWest region:
Japan via the Cotswolds; a visit to a newly created private Zen garden by JGS member Lawrence Barrow
Past articles from Shakkei are a treasure trove of information, practical tips and inspiration for anyone interested in Japanese  gardens.
Every quarter we will be making accessible a selection of articles for members to view.
These archive articles may not represent current ideas on Japanese gardens and may have had minor changes from the original due to privacy or copyright issues.
As all the content is copyright, so please do not share it.
Shakkei articles added Autumn 2023
| Shakkei date | Article title | Author | Click to view |
| --- | --- | --- | --- |
| | Plant of the season: Irises | | |
| | A-Z terms in Japanese gardening | | |
| | The making of a Japanese-style garden at Beck Farm Part 2 | | |
| | Our Day with the Tanakas and Shigemori Mirei | Bill and Marilyn Hammerton | |
| | | | |
| | Selecting stone for Japanese style gardens | | |
| | The origins of the Japanese garden at Tatton Park | | |
| | Tatton Park shrine - addendum | | |
| | Elements of Tatton's Japanese Garden | | |
| | In search of the spirit within the Japanese garden | | |
Some articles coming Winter 2023:
Plant of the season Nandina
A-Z of Japanese garden terms part II
Building of a Japanese style garden at Beck Farm part 3
YouTube Videos recommended by our members
Just added: A recording of a fascinating talk by Howard Healy of Build a Japanese garden building new Japanese style gardens of all sizes. Howard also describes his involvement in building the Chelsea show gardens of Kazuyuki Ishihara who has won multiple Gold medals for his Japanese style gardens.
Please make a suggested donation of £4.00 to support the SE region of the JGS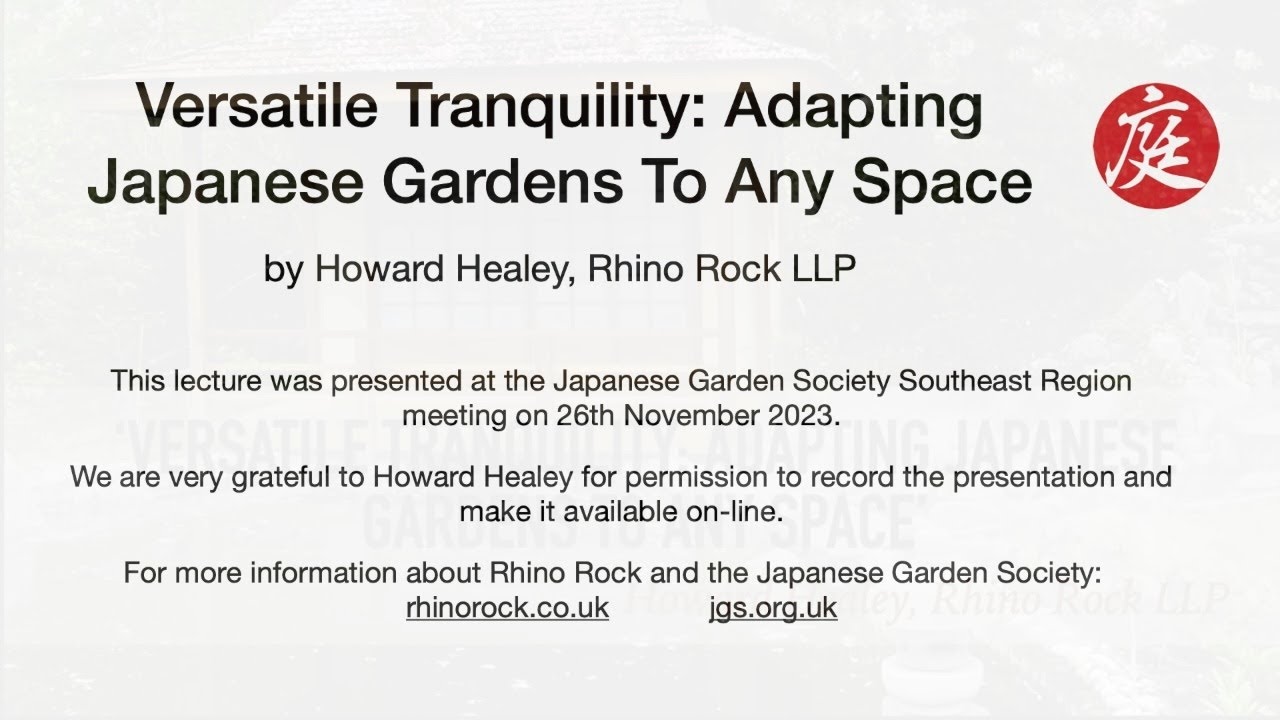 1:06:15 0:16
Recommended by our members
Japanese garden suppliers:
Are you looking for a designer for your Japanese style garden?
List of JGS members who design gardens professionally.
We are always looking for ideas to improve our website for the benefit of members. Any ideas or comments you may have should be emailed to:  
Andy Bolton at webeditor@jgs.org.uk
If you would like to write an article for inclusion in Shakkei, please email
Diane Crawford our editor at: editor@jgs.org.uk for more information.